Adult Karate Classes in Fairport
Adult Karate Classes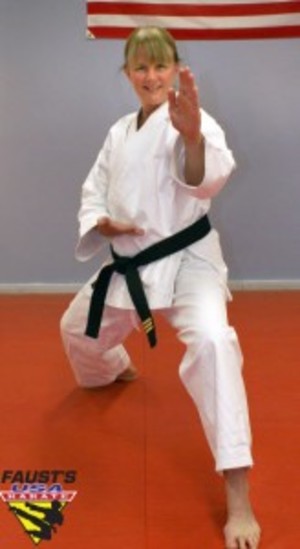 Action-Packed Fitness and Self Defense at Fairport Karate!
If you're looking for a wide mixture of self defense and Mixed Martial Arts Faust USA Martial Arts should be your first choice. At Fairport Karate you'll learn:
The FIRST and ONLY Private Martial Arts School!
No matter what your age, fitness level or fighting experience you will get a proven, well-balanced self-defense system that will get your body into INCREDIBLE shape. Not only will you learn the art of self defense and how to protect yourself, you will learn to use karate, martial arts and a multitude of weapons that will take your defensive skills beyond your arms and legs.
Let us bring out the BEST in you at Fairport Karate!
We are soon kicking off another one of our 90 Day Fitness Challenges, and we'd love it if you joined in!
This year our school celebrates its 25th anniversary. If you want a Fairport Karate program that can help you lose a little body fat, tone up your muscles and stretch and improve your overall energy, we have the experience to help you get REAL RESULTS!
If you are ready to take a physical and mental journey that teaches you to protect yourself in almost ANY situation; PLUS whip your body into amazing shape, look no further!
To gain more details about our Adult Self Defense program – and our 90 Day Fitness Challenge – scroll up and input your contact details on the right hand side. Information regarding Fairport Karate will be sent immediately to your inbox.
Benefits
How to defend yourself in practically ANY situation
Lightning-fast kicks and punches
Empty hand combat moves
Power striking techniques using kicks, knees, and close quarter elbow striking
How to free your mind, body and spirit
Plus, cardio training that keeps you fit and energized.